We inform young people about new opportunities in education, volunteering, career, traveling, etc. We encourage youth to leave their comfort zone and reach their full potential. We engage in communities, promoting active citizenship and connectedness.
Mladiinfo ČR is a Czech non-governmental non-profit organization (NGO). It is a part of the Mladiinfo International network and has an office in Brno. 
We actively participate in Erasmus+ KA1 and KA2 projects, and European Solidarity Corps. 
Erasmus+ 
We organize youth exchanges and training courses (mobilities for youth workers) in the Czech Republic and partner in the projects abroad. We focus on involving people with fewer opportunities / disadvantaged backgrounds and on supporting the participants before and after departure. 
There is the Mladiinfo CR office in Brno, where we can help the participants organize follow-up workshops. Good visibility for the projects is ensured through our website and social media. 
Our PIC number is 947449538, our OID number is E10175084.
European Solidarity Corps (ESC)
We hold the Quality Label for the new project period (2021–2023). Our approved role is Host role, Support role, and also Lead role. Our current accreditation is valid for hosting two volunteers and also for supporting the projects of individual volunteering. Our QL i 2021-1-CZ01-ESC50-094553.
We also support Czech volunteers abroad. So far, volunteers participated in the EVS/ESC through Mladiinfo ČR in more than 10 countries. We have partnered in the EuroAsia Volunteering Assistance Program supporting young volunteers in Southeast Asia. Sent also Czech volunteers to Vietnam and Thailand.
Trained by the Czech National Agency, we can offer pre-departure training for a future volunteer, either in our office in Brno or via Skype, help with the visa procedure, and find a convenient transport to/from the project. During the project, we are in touch with the volunteer via e-mails. We post articles about their volunteering experience on our website and social media to ensure the visibility of the project.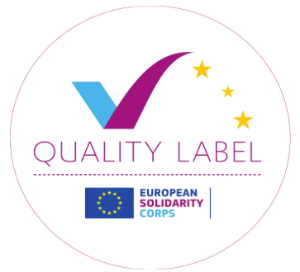 Contact
Mladiinfo ČR, z. s.
Our office address: Masarykova 32, Brno, 602 00, Czech Republic (Please, do not use it as postal address!)
Official address: Antonínská 14, Brno, 602 00, Czech Republic
ID: 22611118 (We are not VAT payers)
E-mail: kancelar@mladiinfo.cz or info@mladiinfo.cz
Phone: +420 797 864 363
Our partners
Coming soon.