Každý dobrovolník Evropské dobrovolné služby prochází několika školeními. Mezi ně se řadí i "on-arrival training", který probíhá v začátcích EVS. Na on-arrival training jel také náš EVS dobrovolník Ricardo a níže si můžete přečíst jeho zážitky a dojmy.
I'm going to describe the best experience I've had so far. I used to be one of those people who don't take care about the confidence group therapy. I thought it doesn't work at all, but the last week my perception changed radically.
Before I went there, I was really afraid because of my English. I didn't know if I could survive with my level, every day speaking, making jokes, thinking, listening, all in English. But to my surprise, it was really easy. Obviously, there were problems, misunderstandings, but nothing important in the end.
The beginning
The week began on Thursday. My first goal was not to get lost on my way to Jevicko. First, I saw few volunteers on the same bus going to Jevicko, so it started well. At fist, all 27 participants introduced each other and we weren't shy strangers anymore.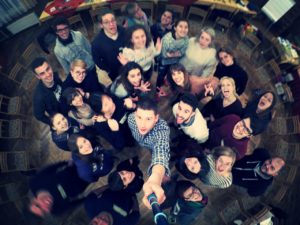 After the introduction, these 27 people including me realised that we were going to be in a hotel for 6 days. It seemed that it was going to be really nice because of the people. From the first night, we were talking and kidding until late in the night. It was so cool.
On other hand, the next days were hard. We had agenda from 7 a.m to 9 p.m. We were doing activities in groups, between breakfast, lunch and dinner. Obviously we had a lot of breaks, but you still talk to a lot of people, so you never really catch a break. At least I didn't.
We played the games in groups. I have to admit that they were really useful, we all were in a safe space. At the beginning, the games were about ourselves, following was useful information about EVS and the Czech Republic. On the last day, we made a guide about developing our projects, and to end the experience we had a session of self-reflection.
The feedback
With all these experiences, the most important is all of us, volunteers in the Czech republic, don't feel alone anymore. We created a group of friends to travel, to visit each other, to share our experiences with people who experience the same.
This intensive week was worth it. I'm looking forward for the next event.