We have just a big festival in Brno about human rights. It is called One World Festival and it took place in different locations in the city during 10 days on March. This festival is taking place too in other cities of the Czech Republic, in total 37,  as well as in other countries of Europe.
One World Festival
This festival is focused on human right and it is made every year. The main idea is around of development and transformation process for which is very important communicating with the public and show this values and processes to get it. Some of the topics are education, volunteering, human rights or the environment to show this reality.
NGO Market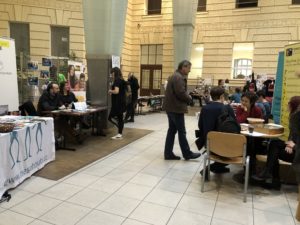 One World festival includes some activities, discussions and debates, screening for children and adolescents and other events like NGO market. NGO market is a big event where there were more than 30 organizations trying to make the public space better.
These organizations are present themselves and what they do for society and try to find new partnerships, volunteers…To get it, organizations build their own stands to, somehow, show their values, mission, vision, or their proposals to the public.
There were some big organizations at the same that there were small or less known to the general public but everyone with common interests: make the world better.
The contribution is about social, environmental, educational and cultural areas or a mix of them in the Czech Republic or in different places.
Presence of Mladiinfo
We were lucky to can be there and present what are we doing in the Czech Republic but also in other countries where we are working. Mladiinfo is an international organization although we are focused on Czech people and concretely in people in Brno in this event.
We shared some flyers and corporative stickers and we gave away with a prize people who could finish our activity in our table! It was a test of peoples knowledge from corporates in a big part of Europe.
We prepared a big map with countries from European Union and you had to discovered where they are from. There were some brands easy to locate but others were so difficult! We realized that we are very familiar with this brands in our lives but we do not know where they are from!
It was a wonderful atmosphere where people could ask for everyone and receive more information about Mladiinfo and how to be volunteer or event receive our newsletter.
If you lost, do not worry! For sure that you have another chance next year!